Towards the just and sustainable use of antibiotics
Journal of Pharmaceutical Policy and Practice
2016
9:31
Received: 22 July 2016
Accepted: 29 September 2016
Published: 7 October 2016
Abstract
The emergence and spread of antibiotic resistant pathogens poses a big challenge to policy-makers, who need to oversee the transformation of health systems that evolved to provide easy access to these drugs into ones that encourage appropriate use of antimicrobials, whilst reducing the risk of resistance. This is a particular challenge for low and middle-income countries with pluralistic health systems where antibiotics are available in a number of different markets. This review paper considers access and use of antibiotics in these countries from a complex adaptive system perspective. It highlights the main areas of intervention that could provide the key to addressing the sustainable long term use and availability of antibiotics.
A focus on the synergies between interventions addressing access strategies, antibiotic quality, diagnostics for low-resource settings, measures to encourage just and sustainable decision making and help seeking optimal therapeutic and dosing strategies are key levers for the sustainable future of antibiotic use. Successful integration of such strategies will be dependent on effective governance mechanisms, effective partnerships and coalition building and accurate evaluation systems at national, regional and global levels.
Keywords
Antibiotic/antimicrobial resistanceEquityJusticeSustainabilitySystemsPluralism
Background
The emergence and spread of bacteria resistant to existing antibiotics is of growing global concern [1]. It is widely recognised that low- and middle-income countries (LMICs), where the majority of the world's population live, not only face particular challenges in addressing antibiotic resistance but also bear a disproportionate burden [2]. In these countries the spread of resistant bacteria is facilitated by poor hygiene, contaminated food, polluted water, overcrowding, and increased susceptibility to infection because of malnutrition, chronic illness and/or immunosuppression [3]. At the same time, factors such as the likely inappropriate use of antibiotics and availability of substandard antibiotics are rapidly driving resistance. In LMICs with weak health systems, the effect of antimicrobial resistance on health and economics is largely underestimated and incompletely understood. A common feature of these countries is the emergence of pluralistic health systems where government provision and health markets combine and where people obtain much of their antibiotics in unorganised markets with a wide variety of medicine providers [4]. A particular challenge in these health systems is the simultaneous existence of limited access to effective treatment of infections and high levels of antibiotic use. In this paper we develop an equity/social justice perspective which takes the conditions in low resource settings pluralistic health systems more fully into account than hitherto has been done. We review strategies and evidence for dealing with antibiotic resistance and consider how inequalities in health systems may influence their sustainability.
It is increasingly accepted that addressing antibiotic resistance requires a system perspective [5]. This is due to the myriad of interlinked technologies, networks, markets, regulations, perceptions, norms and infrastructures that influence antibiotic use. To be truly effective, efforts need to include strategies that cover pharmaceuticals, food and agriculture, human resources, financing, and information systems by linking science to practicality [3]. For an intervention to stand a good chance of success the relationships between diverse aspects and levels of the system need to be considered. The relevant system includes suppliers and users of antibiotic drugs and the local, national and global actors who influence them. Broadly conceived interventions are likely to be more robust. Elsewhere in health policy analysis there is increasing attention to the complex adaptive nature of health systems [6] and the importance of institutional arrangements and history which create path dependency [7]. This makes some interventions more appropriate than others in different contexts. These perspectives imply that the systems approach relevant to antibiotic use goes beyond acknowledging the existence of a multiplicity of actors to include their perspectives, interests, and the multi-dimensional norms and institutions which have developed around drug use over significant periods of time and in the context of severe resource constraints and inequity. Connections between individual and collective action must also be made.
In many LMIC settings characterised by this complexity one can also find strong belief in the efficacy of antibiotics with access viewed almost as a citizen's entitlement [8]. Ensuring universal appropriate access to antimicrobials is not only a critical part of realizing the right to health, it also raises a number of ethical challenges surrounding distributive justice, individual liberty and the responsibility for the wellbeing of future generations. Designing interventions which are in line with/capture different notions of entitlement and justice, especially at local and national levels, will be central to sustainable, coherent and effective action against the development and spread of resistance. The need for both effective strategies to ensure improved and equitable access to antibiotics and strategies to ensure that providers and users are influenced to use them appropriately is at the cornerstone of tackling antibiotic resistance in LMIC contexts. Identifying the underlying conditions of antibiotic use and access presents key levers for balancing access and appropriate use at scale. This article presents an assimilation of the key areas for intervention and the challenges that need to be addressed in order to achieve just and sustainable use of antibiotics.
The objective of this article is to better understand how we can re-think the complex system of human antibiotic use in pluralistic health systems and measures to address the challenges, taking into account the conditions which influence sustainability in terms of access and long term efficacy. Although we recognise the importance of a 'One Health' approach to tackling the complexities of antibiotic resistance, this paper focuses on the human health perspective and the analysis is therefore limited accordingly.
Methods
The data for this general review were identified by a search of PubMed (January 1966 to April 2016) as well as bibliographic references from relevant articles, including reviews on this subject and all selected studies. The inclusion search terms used were 'antibiotic' and 'access' or 'excess' or 'rational use' or 'inappropriate use'. All relevant studies in the English-language literature that described access and appropriate use of antibiotics were assessed. Only studies with an explicit geographic focus on Low and Middle Income Countries or low resource locations were selected for use. This represented 30 % of articles retrieved. In addition, the focus of this review is human antibiotic use and therefore only those references describing human use were selected.
Review
Use of antibiotics in pluralistic health systems
The use of antibiotics in a pluralistic health system is driven by a number of social-technical dimensions, actors and factors influencing providers. The perceived value of antibiotics has diverged from their real value and thus created a system of use that is not always optimum. This is largely due to the way antibiotics are embedded in meanings, networks, markets and norms.
A common feature of pluralistic health systems is the variety of providers of health care and drugs with asymmetries in training, understanding, skills and varying relationships with formal regulatory systems. A number of factors, including established treatment practices and financial incentives, influence how these providers perform [9]. The porous boundaries between public, private, mission and NGO-sector providers means antibiotics can be accessed outside of regulatory frameworks and can be of differing quality. Other actors that can influence how antibiotics are used and accessed include those providing key information such as governments, mass media, NGOs, advocacy groups, advertising agencies. Patients are key actors in the health system, especially when antibiotics are available over-the-counter with the opportunity to self-medicate patients will be influenced by time, financial factors, perceived risk, and so forth [10].
Some pervasive beliefs and meanings have been attached to antibiotics which influence how they are used [11]. For example, the consistent promotion of antibiotics as part of public health programs and messaging from pharmaceutical companies has put emphasis on accessing antibiotics rather than on rational use. The 'syndromic management' approach that treats presumptively by trying to categorise diseases/conditions by symptoms in the absence of better diagnostics is also thought to be a major driver of resistance [12]. In some cases, recommendations of mass or presumptive treatment has cultivated practices where antibiotics are used indiscriminately and/or pre-emptively as opposed to a disease-specific manner. Their connotations of modernity and associations with Western medicine have also purveyed a desirable status for antibiotics [10].
Interventions and the complex adaptive system
Policy makers are developing National Action Plans based on the WHO Global Action Plan approved at the 68th World Health Assembly. Whilst country-specific interventions will be needed there are a number of similarities when considering the key levers of intervention for pluralistic health systems. How countries provide access to efficacious antibiotics whilst ensuring rational use for future sustainability requires simultaneously targeting several key drivers and the underlying causations within a complex system. Figure
1
. provides a system perspective of the manifold drivers of antibiotic resistance in community settings of pluralistic health systems and highlights the potential levers for intervention.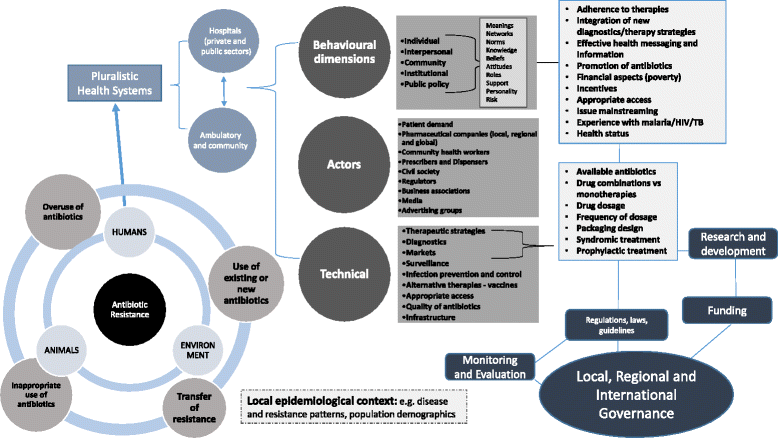 The following subsections outline some of the key themes that arise when considering possible interventions to tackle antibiotic resistance at the community level, along with the barriers and challenges that need to be addressed in order to develop sustainable interventions.
Sustainable future solutions in a complex world
Effective interventions will need to consist of a package of components – one approach is unlikely to suit all settings [
56
]. Based on the potential areas of intervention discussed above a number of key challenges and areas for further research present themselves. Table
1
provides an overview of the themes, rationale and variables that need to be explored in order to develop sustainable future access and appropriate use interventions for antibiotics. A number of possible interventions have an apparent simplicity, but in fact, they influence complex medical and evolutionary landscapes, that is they might result in many other effects, variable in different places and some of them eventually unwanted. Apparently 'simple' interventions are frequently complex and unpredictable in their effects [
57
]. Complexity influences interventions not only because of the number of interacting components, but also because of the number and difficulty of behaviours required by those delivering or receiving the intervention [
58
]; the number of groups or organizational levels targeted by the intervention [
59
], the number and variability of outcomes; and the degree of flexibility or tailoring of the intervention permitted [
60
]. A combination of synergistic interventions tailored to the wider ecological context and specific circumstances with the requisite monitoring of outcomes is likely the most efficient approach.
Table 1
Variables to explore for sustainable future access and appropriate use interventions
Theme

Rationale

Variables to explore for intervention

Access strategies

How should antibiotics be made available to all members of a community?

Roll out options, referral patterns, training community health workers to prescribe appropriately, exclusive vendor availability

Antibiotic quality

Measures to ensure antibiotic quality

Roles of different actors, effective technologies for low resource settings, drivers of quality

Decision making and help seeking (unlocking capabilities)

Strategies to enable people to treat infections when necessary while reducing risks of resistance

Suppliers of advice and drugs, role of financial incentives, assessment of risk and need, professional and social norms, understandings of disease and antibiotics, ideas of entitlement, design of packaging

Therapeutic and dosing strategies

Optimising drug use strategies based on the scientific, economic, social and epidemiological context

Explore antibiotic combinations, co-administration, co-formulation, cycling, best practice for frequency and adherence to dosing strategies

Use of diagnostics

How can diagnostics improve diagnosis and treatment and be relevant in low resource settings

Dual diagnosis of infection and resistance in low resource settings, meeting the needs of populations, integration with surveillance, effects on access to care, treatment-seeking behaviour or supply stock-outs, prescription/antibiotic use

Exploring integration of new strategies

Transmission of health behaviour messaging integration of appropriate use measures into everyday practices. Explore innovative ways of tracking, diagnosis, treatment, reporting, messaging and the surveillance of resistance and antibiotic use

How can mobile health technology be incorporated to improve diagnosis, treatment and surveillance; can social media be used to encourage appropriate use of new/existing therapies; role of pharmaceutical companies and appropriate use

The role of markets and market actors

Effective strategies for involving players at every level in the market (local, national, regional, international) and aligning incentives

Roles/responsibilities for information transmission, guideline adherence, positive incentive creation, measures to improve access and reduce resistance

Consensus and coalition building

Building (and negotiating) shared visions of just and sustainable use

Mapping competing understandings and interests of relevant organisations and associations; Building of coalitions for change

Governance

Effective mechanisms at the community and regional level for ensuring sustainable access and use of antibiotics

Agreed roles and responsibilities, effective funding streams, harmonisation where possible

Evaluation of systems

Observe impact of interventions

Other health consequences, clinical outcomes of AMR, resistance in the environment, health seeking behaviour and wider social consequences (economic, networks)

Identify unintended consequences
The idea of antibiotic mainstreaming, i.e. - always to consider the effects of various types of interventions and various types of decisions on future availability of antibiotics, could be a means to raise awareness and integrate potential behaviour modification with respect to antibiotics in all aspects of society [21].
Conclusions
Antibiotics are different from all other medicines in that the effects of their use extend beyond individual patients. The societal effects of antibiotic use justifies that measures need to ensure they should be accessed, prescribed, dispensed and used appropriately and accurately based on robust scientific evidence. In order to create sustainable future solutions for just access and appropriate use of antibiotics interventions need to reflect the complex adaptive system of antibiotic use and availability. When considering this multi-tiered system, set within broader epidemiological and ecological contexts, the potential areas for synergy and conversely the potential unintended consequences need to be considered. With deeper understanding a number of key themes present opportunities for intervention: access strategies, measures to ensure the quality of antibiotics, measures to encourage just and sustainable decision making and help seeking, effective therapeutic and dosing strategies and the use of accurate diagnostics. The achievement of progress towards adopting and integrating interventions hinges on effective partnerships and coalition building, accurate evaluation systems and effective governance mechanisms. The activities of a large number of stakeholders will need to be aligned. This will involve new kinds of partnerships, a deliberative process bringing in different voices reflecting the complexity of the issue. Such partnerships will require a balance of interests and belief that the benefits of partnership outweigh any losses. Partnerships will need to exist at regional, national and global levels and involve public, private, formal and informal sectors and will likely go beyond traditional health system boundaries. In many settings this will present challenges and feasibility will vary in different settings. There are indeed many gaps and challenges in the current understanding of antibiotic access and use, but identifying the levers for change as part of a wider system clearly identifies areas for immediate action and ways to engender a long-term sustained change for antibiotic access and use.
Abbreviations
AMR:

Antimicrobial resistance
LMIC:

Low and middle income country
MRSA:

Methicillin Resistant Staphylococcus Aureus
NGO:

Non-Governmental Organization
WHO:

World Health Organization
Declarations
Acknowledgements
Not applicable
Funding
Funding was provided by the ARCADE RSDH consortium, funded by FP7 of the European Union and the DFID-funded Future Health Systems Consortium. The funders played no role in designing the study or collecting, analysing or interpreting data and writing the manuscript.
Availability of data and material
Not applicable
Authors' contributions
GBM was responsible for the study design, conduct of the study, and for the drafting and revising of the article. GB supervised the conduct of the study. GB, AW and HM contributed to the intellectual content of the review and to the writing of this manuscript. All authors critically reviewed the manuscript. All authors read and approved the final manuscript.
Competing interests
The authors declare that they have no competing interests.
Consent for publication
Not applicable
Ethics approval and consent to participate
Not applicable
Open AccessThis article is distributed under the terms of the Creative Commons Attribution 4.0 International License (http://creativecommons.org/licenses/by/4.0/), which permits unrestricted use, distribution, and reproduction in any medium, provided you give appropriate credit to the original author(s) and the source, provide a link to the Creative Commons license, and indicate if changes were made. The Creative Commons Public Domain Dedication waiver (http://creativecommons.org/publicdomain/zero/1.0/) applies to the data made available in this article, unless otherwise stated.
Authors' Affiliations
(1)
Health Action International, Amsterdam, The Netherlands
(2)
Institute of Development Studies, Brighton, UK